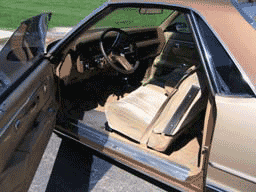 Inside there are 55/45 split seats with a center folding armrest in saddle tan OEM custom cloth.
It's equipped with power windows and door locks, electronic speed control and intermittent wipers.
The interior has been kept fresh with the addition of a complete carpet kit from El Camino Parts. This included the floor pan, sun visors, door inserts, rear curtain and floor-mats.
The side windows have been tinted by Dale at "A Tint of Excellence" to keep out the Arizona sun. The rear glass is covered by the offical "Cowboy Cadillac" sun screen.
The steering wheel has a leather cover.
For added security, there is a CarGard Stainless Steel Anti-Theft Band installed on the Saginaw Comfor-tilt steering column.